Our story
June's Version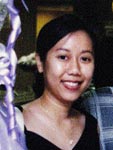 The year was 2000, and the first foreign student gathering was held on the university's main campus. The campus was rather huge and me being me with not a good sense of direction was rather lost. It so happened there was this caucasian guy walking past. Thinking that he's a student attending lectures on this campus, I approached him for directions. The short abrupt reply was 'I don't know'. I thought to myself... 'what a snob!'.
When I was almost nearing the room for the foreign student gathering, I saw this guy, the same one I approched earlier to get directions from. 'Strange that he seemed to be going the same way I was' I thought to myself. So we were heading into the same room!
It was at that point that I had first taken note of Sami. The first impression he gave me was that of a quiet and queer guy. Even when people started to introduce themselves and both of us formally made introductions, he merely uttered a few words. In my mind, there was only this one phrase '扮酷' (acting cool).
That was our first encounter. In the back of my mind was this conclusion - Sami is a Finnish guy who acts cool.
Coincidentally, we attended our lectures on the same campus in Docklands. We did bump into each other quite a bit, especially in the library somehow. Not that I was a bookworm, but it was the sort of place you're expected to go after lectures. Soon a pattern developed, this Finnish guy kept bumping into me in the library, and eventually this Finnish guy was chasing me all around the library! Yes, that was how he got his first date too.
I remember that our first date was a walking tour around touristy spots in London which ended in China Town near Leicester Square. The first meal Sami cooked for me was a Spanish meat and seafood paella, that's when I first learnt that he's a very patient guy but hated people not being punctual. On our first dinner date, we went to this little Italian restaurant near Leicester Square, and I learnt that he's a very gentlemanly guy. That date led to a rock concert to watch a Finnish rock band HIM perform at Garage in Islington, and our special song then was 'Join Me', we still love HIM today. From that point onwards, Sami and I were most of the time spotted in and out together, until I left London for Hong Kong to work.
Never have I thought that when I left London that I was kept in a very special place in Sami's heart. Six months after I left London, Sami was already on his first ever journey to Asia to see me. It was on his second journey to Hong Kong in 2004 that we realised we really wanted more time together. In the autumn of 2004, Sami sat me down beside a beautiful pond in Queen Mary's Garden and popped the question. It was a very modest yet most sincere expression of love.
Sami's Version
It was an international students meeting day on September 27th 2000. I was on the way to the meeting on the university's Barking campus. I was just inside the campus area to check on the meeting place, when this girl stopped and asked if I knew where some room was located. I told her I didn't really know the area myself, so she left.
I couldn't figure out the location of the meeting room, so had decided to go the reception and ask. On the way I saw this girl again looking at the signboard and I decided to help her out and pointed her to the reception where I overhead that she was heading in the same direction. So I told her that I was on the way there and we started our search for the meeting place together. Finally we found the place in some far out corner of the campus. At the meeting she found some friends (who we still know today) and at that point we got separated. She did come to check my nationality later because of some game we were playing.
Right after the meeting I saw her again on the tube platform. We were both on the way towards central, so we got to chat for a long time. It wasn't easy to talk in the noisy tube, but I got to know this girl better.
That was our first meeting.
I lived on the Docklands campus, which was in the middle of nowhere, where I didn't have anything better to do than check my email and surf the net. Unfortunately or rather fortunately for June, the place to check my email was in the library. The library was the place for her to do homework, yet she had to suffer my boredom and get harrassed almost every time I saw her. I managed to control myself a few times, but I couldn't help it most of the time, I fancied this girl already you see.
I took her to Little Italy, a small cozy restaurant with some atmosphere near Leicester Square. It is still very clear in my mind. June was in a long grey dress, not very sexy, in fact it was very reserved yet somehow she looked attractive. That evening went nicely, we talked a lot and I enjoyed it very much. I can remember that evening, and will remember it long as it has made a strong impression in my memory. After dinner that evening, we had our first kiss, a very glossy one that kept my lips moist and my heart warm throughout my journey home.
That was our first date. From then onwards, I was head over heals and floating off to cloud nine.
Our Version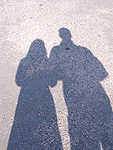 Those who are close to us would already know that we had our civil ceremony in Finland, 30th March 2005. It was a very simple ceremony witnessed by immediate family members.
28th December 2007, will be a large scale traditional celebration in Malaysia. We will be looking forward to meeting relatives and friends.